Kunjungan ke Jakarta Smart City
JAKARTA FOR THE FUTURE: STUDY TOUR TO JAKARTA SMART CITY
Pada hari Selasa, tanggal 11 April 2017 HIMTEK mengadakan kegiatan Study Tour bagi mahasiswa angkatan 2015, Binus University jurusan Sistem Komputer. Tempat tujuan study tour kali ini adalah kantor & lounge Jakarta Smart City yang berada dalam  Gedung Balai Kota DKI Jakarta di Jalan Medan Merdeka Barat. Tujuan study tour kali ini adalah untuk mengobservasi, belajar, menambah pengetahuan & wawasan, mengetahui hubungan ilmu yang didapat pada kuliah dengan pekerjaan yang tengah diamati, dan juga sekaligus bersenang-senang… 😊
Jakarta Smart City adalah upaya dari Pemerintah Provinsi DKI Jakarta untuk memanfaatkan teknologi informasi yang terintegrasi di semua sektor publik untuk menaikkan taraf hidup masyarakat DKI Jakarta, serta memastikan pengelolaan sumber daya alam dilakukan secara bertanggung jawab.
Sekitar jam 8 pagi para mahasiswa berangkat dari Kampus Anggrek Binus University menuju Balai Kota DKI Jakarta. Para mahasiswa, didampingi oleh dosen pembimbing Bpk. Rico Wijaya, S.Kom., MTI berangkat dengan menggunakan bus. Sekitar jam 9 pagi bus sampai di Balai Kota DKI Jakarta, para mahasiswa pun segera meninggalkan bus untuk masuk ke dalam Balai Kota.

Para mahasiswa segera bergegas menuju lantai 3 gedung Balai Kota untuk memasuki Lounge Jakarta Smart City. Para mahasiswa disambut dengan hangat oleh pimpinan Jakarta Smart City dan pembicara-pembicara yang juga bekerja di Smart City. Setelah itu, para mahasiswa dipersilahkan duduk di kursi-kursi yang tersedia untuk menyimak penjelasan pembicara tentang Jakarta Smart City.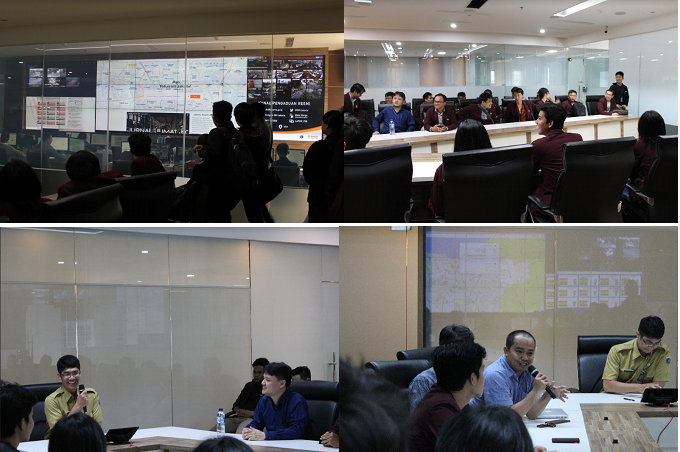 Pembicara menjelaskan tentang cara kerja Jakarta Smart City, pendataan dan pelacakan fasilitas-fasilitas kota secara real-time, monitoring via CCTV, pengelolaan dan penataan kota yang dipantau dari Smart City, dan sebagainya. Para mahasiswa terlihat antusias menyimak pembicara.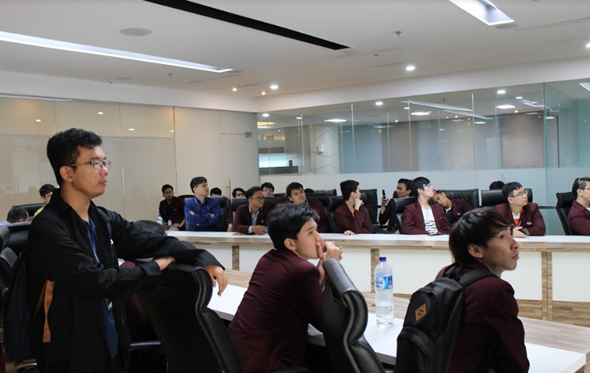 Setelah penjelasan dari pembicara, dibuka sesi tanya-jawab untuk para mahasiswa. Para mahasiswa pun dengan kritis bertanya kepada para pembicara mengenai Smart City dan aplikasinya dalam kehidupan warga. Banyak sekali pertanyaan yang diajukan, dan setiap pertanyaan diajukan dijawab dengan baik oleh pembicara. Baik pembicara maupun para mahasiswa terlihat menikmati suasana hangat yang tercipta di dalam lounge. Sesi tanya jawab terus berlangsung sampai pukul 11.00.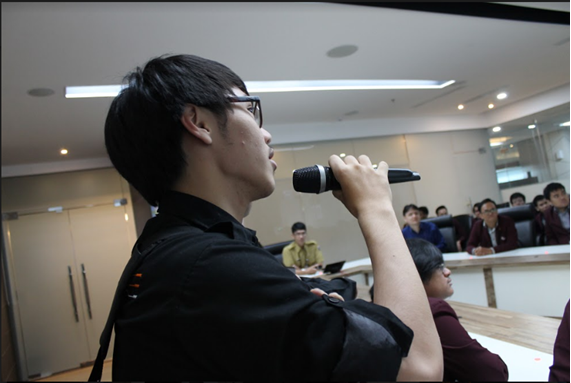 Sebelum berpisah, diadakan foto bersama dan pemberian Token of Appreciation dari Jurusan Sistem Komputer untuk Jakarta Smart City dari bapak dosen Rico Wijaya, atas dukungan untuk program study tour ini.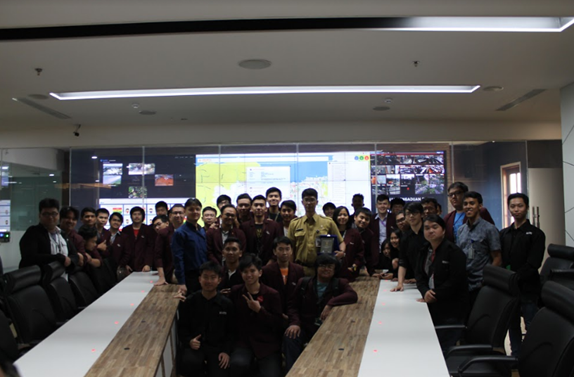 Setelah pemberian Token of Appreciation, para mahasiswa bergegas keluar dari lounge dan gedung Balai Kota untuk foto bareng di halaman depan Balai Kota. Dengan banner tergerai lebar, seluruh mahasiswa jurusan Sistem Komputer mengeluarkan pose terbaik mereka di depan kamera.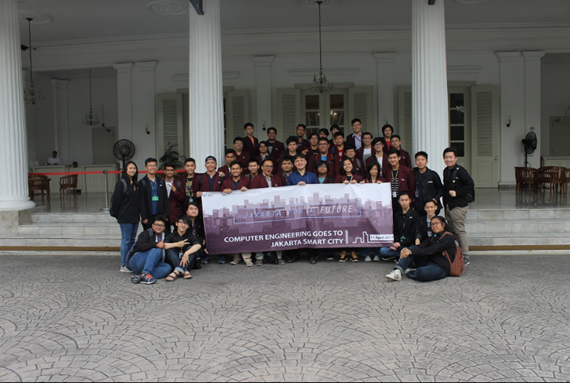 Pukul 11.30 para mahasiswa meninggalkan Balai Kota DKI Jakarta untuk kembali ke kampus Anggrek dengan bus. Para mahasiswa pulang dengan hati yang senang dan berbekal pengetahuan baru yang mereka telah dapatkan dengan mengikuti program study tour ini. Pukul 12.30 para mahasiswa sampai di kampus Anggrek dan membubarkan diri untuk pulang atau melanjutkan aktivitas mereka masing-masing.