The 5th COMPUTER ENGINEERING COLLOQUIUM – [Invitation]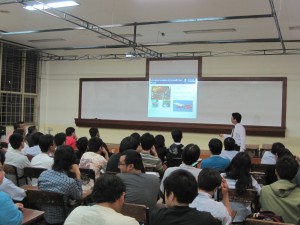 Dear All,
Untuk mendukung atmosfir penelitian dan akademis di Jurusan Sistem Komputer maka kami kembali menyelenggarakan kegiatan yang rutin diadakan setiap dua bulan, kegiatan ini ditujukan bagi dosen dan mahasiswa jurusan Sistem Komputer untuk update informasi hasil penelitian maupun teknologi.
Untuk itu kami mengundang Bapak/Ibu dan mahasiswa/i sekalian untuk hadir pada:
The 5th COMPUTER ENGINEERING COLLOQUIUM
Pada hari Rabu tanggal 3 Oktober 2012 pukul 10:00-12:00 di ruang K1C, Kampus Syhdan, Universitas Bina Nusantara, Palmerah, Jakarta.
yang akan diisi dengan:
Tech Update: "Sistem Siaran TV Digital: Era Baru Dunia Pertelevisian Indonesia" (oleh Bapak Wawan Julianto)
Tech Update: "Taking Embedded System Development to the Next Level using 16/32 bits Microcontroller" (oleh Bapak Wiedjaja)
Atas perhatiannya kami ucapkan terima kasih, dan kami tunggu partisipasinya.
NB: Untuk Mahasiswa harap datang 9.20 sehubungan ada informasi tambahan mengenai skripsi.