BINUS – Huawei ICT Academy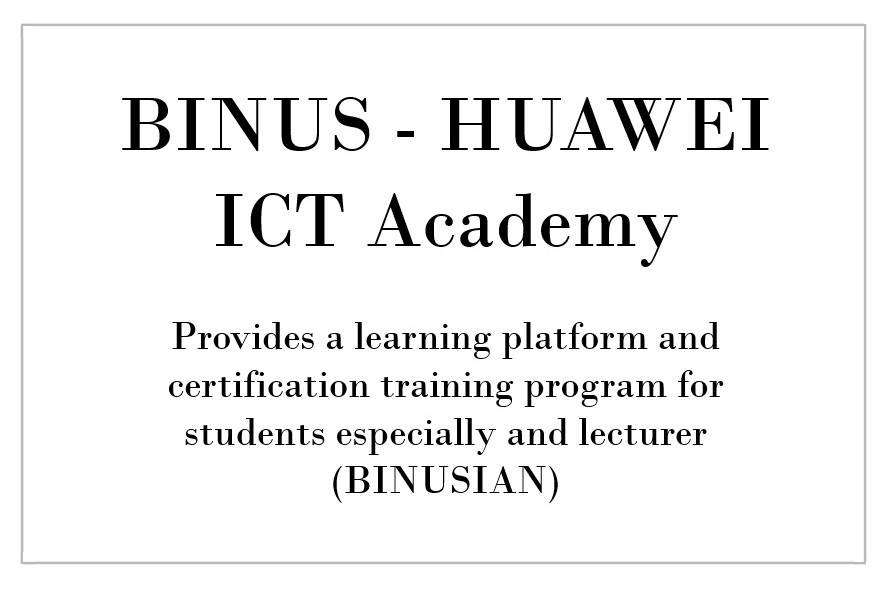 BINUS – Huawei ICT Academy is a collaboration program between Bina Nusantara University and PT Huawei Tech Investment. The ICT Academy handled by Computer Engineering Department Bina Nusantara University. The purpose of this ICT Academy is to teach student about Huawei technology, preparing certification for students, and also to obtain certification that can be used to find professional work. Huawei products have been used for more than 60% of Indonesia's telecommunications infrastructure.
How BINUS – Huawei ICT Academy work?
What benefits will you get if you join BINUS – Huawei ICT Academy?
Links with Industry and knowledge sharing – real world knowledge
Access to latest technologies and Huawei e-learning resources
Access to industry standard simulation tools
Industry standard ICT training & certification for students
Master classes, seminars, industry trips and ICT competitions
Job opportunities for Huawei, Channel partner, HALP
Training & certification – increased job opportunities for students
Free vouchers for Huawei certification exam
Who can attend?
The ICT Academy welcomes all Binus Student (Binusian) from any major to join the ICT Academy.